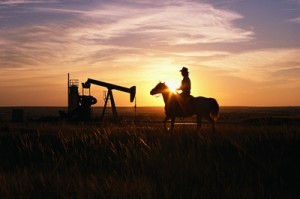 R.King & Co. was created in 2007 as part of a vision to transform my family's dormant minerals into income-producing assets. The last oil and gas leases our forbears executed was in 1976 and our total production in 2011 was ½ barrel of oil per day. Some of this income had been going into a State of Texas Unclaimed Account for 30-years.
We are part of a family that first acquired its minerals in 1883. 130-years and seven generations later, these minerals are now owned by forty family entities spread across six states – including eighteen individuals, five banks, fifteen trusts, an education foundation and a large corporation.
Energy companies had been trying to find us since 1979, but we didn't know that. They were interested in leasing our minerals for oil and gas development, but could not determine our ownership or whom to contact. So they gave up. We were unleasable. Even worse, many of us did not know what are minerals rights or that we owned part of these minerals. As a result, our mineral assets had zero value.
Not only were our mineral assets unknown and undeveloped, our family had lost its ties to each other and were becoming strangers. With each succeeding generation we were about to be even bigger and more unmanageable. The wakeup call came when a persistent petroleum landman tracked one of us down, expressing interest in leasing some of our minerals for oil and gas exploration. We began talking to each other – about minerals we didn't know we owned.
Our challenge was to consolidate decision-making into a plan all mineral owners could agree to 100%. Fortunately, we had a core group with a driving vision to turn our dormant minerals into income producing assets. It took two years to determine our mineral ownership – who owned what percentage. We began communicating with each other, building a vision, meeting and discussing the merits of various plans. Our first three plans were presented to all mineral owners and did not reach 100% consensus. Finally, our fourth plan took hold. And once we consolidated our decision-making – we were all handsomely rewarded.
Along our journey, R. King & Co. was faced with hundreds of decisions. We established two guiding lights along the way. For every decision, we required a "yes" to two questions: "Will this decision make more money for each individual mineral owner?" And, "Will it bring our family closer together?" If we could answer yes to both questions, then we went forward.
It took another year to market our minerals. As a result of all this effort, we successfully signed oil and gas leases with one of the world's largest independent energy companies to explore our minerals. There were plenty of lawyers and accountants involved! We received a big bonus payment that came as a godsend to many of us. We are now eagerly awaiting the results of an aggressive drilling program to increase our income even further.
This 3-year process brought our family back together and dramatically improved all our individual financial conditions. R. King & Co. succeeded beyond expectations. Currently, we are assisting other families, transforming their minerals into income-producing assets. We look forward to providing management, development services and those rewards to you and your family.