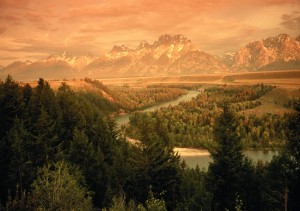 2016 could be the year of Wyoming oil and gas industry's next boom. Oil and natural gas project proposals, which carry more than 20,000 planned wells for Wyoming, are currently being studied and permitted. Most of the proposed wells are in only a handful of projects in western and central Wyoming.
Each project is estimated to create hundreds or thousands of direct and immediate jobs, and millions or billions in tax revenue for local governments. The fields developed could produce oil or gas for five decades. Production from such fields has been increasing for years, but if all proposals are approved, Wyoming's oil and gas industry could produce at a level rarely seen before.
The largest proposal being studied is the Continental Divide – Creston (CDC) project, planned for 1.1 million acres stretching from 40 miles east of Rock Springs to 20 miles west of Rawlins, and as far south as Baggs. The project could encompass 8,950 wells total, a number that dwarfs the largest active oil and gas fields in Wyoming.
The CDC project differs from most proposals being considered by the federal Bureau of Land Management because it involves about 20 participating companies and is an expansion of a development area that currently holds approximately 4,000 wells. The companies heavily involved in the project are BP American Production Co., Devon Energy, and Anadarko Petroleum.
"This is a fantastic project for all parties involved," Brian Cain, a spokesman for Anadarko Petroleum, said. Cain, whose company expects to perform about a quarter of the activity in the plan, said early reports show about $9.3 billion in local  and federal taxes and royalties to be paid during the 40 or 50 years the project is active.
Chip Minty, a spokesman for project co-leader Devon Energy, said his company operates about 700 wells in the area, just west of Baggs. The economics of natural gas and the mandates laid out by the BLM will determine how many wells Devon may drill if the project is approved. A final review of the project is expected in summer 2014.
Encana Oil and Gas, the operator of one of Wyoming's biggest natural gas fields, could soon begin drilling at two new projects totaling nearly 8,000 new wells. The Moneta Divide project area would include about 265,000 acres of land between Casper and Shoshoni, and add 4,250 wells to the 300 the company operates today. A final decision from the government is expected in late 2015 or early 2016.
The Normally-Pressured Lance (NPL) project would include 3,500 natural gas wells just southwest of Jonah. "NPL is extremely important to Encana and our operations in Wyoming," according to project leader Paul Ulrich. "Any time we're able to enhance production, we're able to provide revenue and jobs to the state of Wyoming." A final decision on the project, which would take place on 141,000 acres of primarily federal land, is expected in early 2015.
Other large projects under review by the BLM include the Hiawatha and Moxa Arch Infill plans. Hiawatha, proposed by QEP Resources, would include more than 4,000 natural gas wells on 157,000 acres starting 50 miles south of Rock Springs.  The Moxa Arch Infill project would include up to 1,800 natural gas wells in a 475,000 acre area just east of Kemmerer.  EOG Resources expects a final decision from the BLB in spring 2014.
Also under review are the multi-company, 800-well LaBarge Platform Exploration and Development project,  Devon Energy's 220-well Beaver Creek natural gas proposal for the Riverton area, and the 365-well Bird Canyon proposal for Sublette and Lincoln counties, proposed by Crown Energy and Koch Exploration. Bruce Hinchey, president of the Petroleum Association of Wyoming, said the list of projects could have major effects on Wyoming's oil and gas industry and generate key revenue for the state.