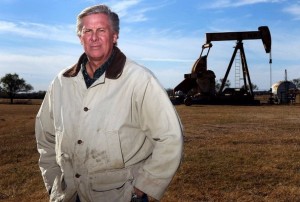 Eagle Ford Shale might never have been discovered if Gregg Robertson had followed his dream to become an investigative journalist. Fortunately, his investigative skills and attention to detail as an independent geologist from Corpus Christi led him to find an infinitesimal clue in a sprawling warehouse at the University of Texas research campus.
In 2008 Robertson teamed up with geoscientists at Petrohawk Energy Corp. to develop a shale play concept in South Texas. The team was convinced that their studies guaranteed success. Final approval for the project by Petrohawk's CEO and COO was granted because Robertson produced cuttings from the 1952 dry well in La Salle County. The organic content  in the 60-year-old core sample confirmed their concept
Eagle Ford Economic Impact
Since the first well was drilled in 2008, the 50-mile-wide, 400-mile-long formation has been a hotbed of oil and natural gas drilling. The Eagle Ford Shale generated $61 billion in 20 South Texas counties in 2012. That is more than double the 2011 impact of $25 billion. And its impacts have spread beyond the oil field, generating $8.5 billion in Nueces County which includes Corpus Christi.
A University of Texas at San Antonio study predicts a steady shale play for another decade. Even as drilling gives way to production and maintenance, there is a "new normal" in the area. The economy is expected to continue at a higher level than before production. An $89 billion impact is predicted in 2022, supporting 127,000 jobs.
Eagle Ford Shale Honor
Discovering the bounty of the Eagle Ford Shale was a group effort. But it would have been impossible without Gregg Robertson's attention to details that others overlooked. In honor of his crucial role in the discovery, Robertson, 55, was chosen as the Caller-Times 2012 Newsmaker of the Year. Click here to read the complete story.